TECHNOLOGY
We stand apart from other centers in providing state of the art diagnostic retina (eye) testing at all of our locations.
The Heidelberg Engineering spectralis is used in all locations so that your doctor has access to high-resolution diagnostic imaging no matter which location you choose to visit.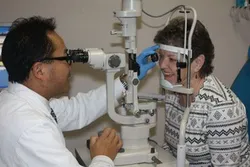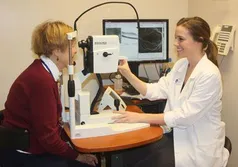 Retinal Imaging System: Heidelberg Engineering Spectralis
Spectral Domain OCT
Digital Fluorescein Angiography
Indocyanine Green (ICG) Angiography
Digital Color Fundus Photography
Photo courtesy of Heidelberg Engeneering Spectralis, Copyright 2009.
We proudly provide the Optos Digital Ultra-widefield Fluorescein Angiography and Fundus Photography so that our physicians will continue to evaluate your eye health using state of the art technology.
For more information on the latest technology in widefield Fluorescein Angiography visit the OPTOS website .
Our office provides other retina imaging including but not limited to: Color Fundus Photography, Ultrasound Imaging, Visual Field Examinations, and other eye diagnostic imaging to better care for you.
OFFICE TREATMENTS

Many current therapies can now be provided in the office setting in order to reduce the need for surgical intervention. We provide same day office treatments for our patients.
Anti-VEGF (vascular endothelial growth factor): Avastin , Lucentis , Eylea, Macugen, Beovu
Steroid implant- Ozurdex , Iluvien
532 nm Laser/ MicroPulse Laser (retina tear / detachment repair, laser for diabetic retinopathy, vein occlusion)
Pneumatic retinopexy (retina detachment repair)
Cryotherapy (retina tear / detachment repair)
YAG Laser (Vitreous membrane lysis, capsulotomy, peripheral iridotomy)
Photo credit source: All About Vision
SURGICAL TREATMENTS (Hospital based--23g & 25g vitrectomy)
Retina detachment repair
Macular hole repair
Macular membrane (scar tissue removal) with ILM (internal limiting membrane) peel
Dense subretinal hemorrhage displacement
Diabetic / tractional retinal detachment repair
Traumatic ruptured globe repair
Neovascular glaucoma Ahmed shunt placement